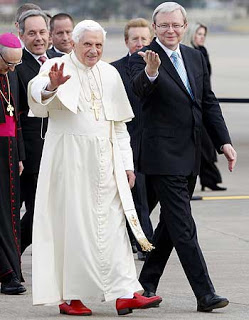 I remember the time when Pope John Paul II visited Philippines back in January 1995. I was in college at that time and my grandmother (deceased) was an active member of a church organization and was part of the group of pilgrims who went to Manila to witness the event.

On July 15-20, 2008, Pope Benedict XVI visits Sydney, Australia for the World Youth Day 2008 Celebration. WYD, organized by the Catholic Church, is the largest youth event in the world which brings together young people from around the globe to celebrate and learn about their faith on a more regular basis. This will mark the first visit of His Holiness Pope Benedict XVI to Australia. More than 125,000 pilgrims from overseas are expected to attend the said celebration, which culminates in an open-air mass on July 20 to be attended by 500,000 people.
The 81-year-old Pontiff arrived in Sydney on Sunday at Richmond Military Airbase.

*photo not mine*