Working out is something that I need some motivation on. I packed on some pounds when I got pregnant with my 8.4 lb. baby then. But even after 3 years, I can't seem to shake off those unwanted pounds. I know, blame it on the pregnancy and those crazy hormonal changes, lol! But honestly, I am now more serious than ever to lose weight. And the first part of my motivation process is getting the right workout outfit for me. I would have to be comfortable first in what I'm wearing before I can even start getting serious with my new goal for this year. I am really grateful that
Ellie
does not only loves fitness but fashion as well. They understand the need to look and feel good thus creating the ultimate active wear for all types of women. I was really lucky to join the Ellie Ambassador Program. I received a nice set of comfy and stylish workout attire and I didn't wait much longer before I put these to the ultimate test.
The two items that I received from them for my review are "It Takes Two Top" ($44.95) and "Little Black Capri" (also priced at $44.95). When I first saw the top, I thought this can't be for workout. I mean it looks really nice that you wouldn't be embarrassed to be seen wearing it. You can even go shopping in this blouse, lol! It's so cute and versatile. My other concern was it might be too thick to use for exercising. But you know what, I proved myself wrong. The top is very lightweight and airy. It's made from natural fibers that won't pill. Perfect for gym workout, running or hiking. You can wear the sleeves long for those nippy morning jogs or roll them up for a rather casual look. Now as for the capri, I gotta say this must be the most comfortable pair I have ever worn. They're just amazing. They're very soft like cotton, and it perfectly holds your shape and fits like a glove so they stretch and move with you. Another thing that I love about these is the moisture-wicking fabric that keeps you dry even after an intense workout. I also love that they are breathable and they don't ride down like other workout leggings/capris that I have had in the past. They are not only functional but fashionable as well so you can wear these even when you just wanna go around town. I am totally loving my Ellie outfit.

Our little exercise area down in the basement.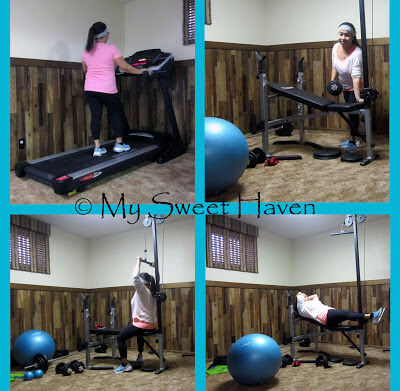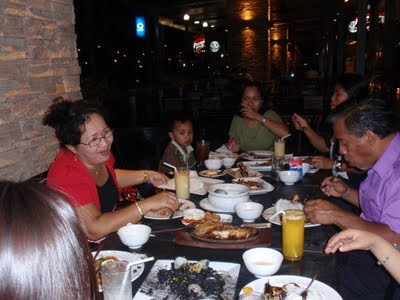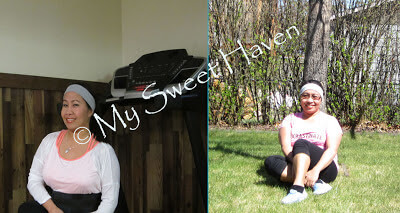 So, if you also want to give Ellie a try, go ahead and click the ad link and button below to get $20% off of your entire purchase.
Disclaimer: As an Ellie ambassador, I received this complimentary outfit to review on the blog. All opinions are my own and reflect my actual thoughts on the clothing.