Warning: This is a very long post and it might bore you to death. But if you are interested to read about the job-hunting experience of a Filipina in the United States, then read on.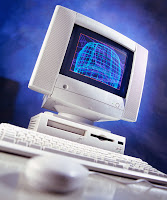 I couldn't contain my happiness when the Information Systems Manager of the Bank of the Ozarks told me on the phone that they offered me the job as PC Support Specialist. I had to wake up Jeff, who was taking a nap in the couch at that time while I was blogging, and share to him the good news. Wow, the feeling was much like how I've felt when the Immigration Adjudicator stamped Approved on our visa papers. It felt so great.

It is interesting to mention that July 18, 2007 was my last day at work in the Philippines, then a year later, July 18, 2008, I was offered my first job here in the U.S. When I got my driver's license three months ago, I started looking for jobs in the internet and newspapers in our town. It was not an easy endeavor. Living in a small town like Ozark with a little over 3,000 population, there are hardly jobs that I'm willing to take. There were times that I feel frustrated and disappointed with myself 'coz I can't seem to find a job. I first put in as a Dental Assistant in a dental clinic here in town. That was my first job interview here and I knew that the chances of getting hired are slim since I didn't have the dental job experience.

My hubby has always been the shoulder to cry on for me during the days when I feel like all my self-esteem and confidence have left me just because I am jobless. He always comforted me with words like "It's alright. It'll take time. Don't worry, we'll get you a job. No matter what, I still love you." But we both know it's not about whether he would still love me if I'll get a job or not. It's about finding my self-worth in the corporate world. I've never been jobless after I graduated college back in the Philippines. But of course living in the U.S is much more different. We both anticipated the difficulty of getting me a job but I didn't realize that it could hurt this much when after 3 months of job-hunting, there was never a clear career path for me.

Until finally, I filled out an application online as Loan Document Data Processor with the Bank of the Ozarks. The anticipation for a job interview feels like it's taking forever. But what can I do, I'll just have to be patient. I spent most of my time blogging which I find gratifying. Aside from the minimal amount that I get out of it, I enjoyed the feeling of having to express my thoughts through writing. At last my interview with the bank happened a week ago. I thought it went pretty well but unfortunately, my lack of banking and loan experience hindered me from being hired despite my proficiency with data processing.

BUT....there must have been something in the interview that has impressed the Item Processing Manager and made her forward my application to another department, because even before I get the rejection letter, I got a call from their Information Systems department asking to see me for a second round of interview for the PC Support Specialist position which I didn't even put in for. The interview only lasted for 15 minutes but before that day ends, I was immediately informed by a phone call that I got the job and they will pay me more than the desired salary that I put in my application. Oh boy! I am so grateful and happy...I can't wait to start working and explore my capabilities in the world of Information Systems. And oh yeah, my first day at work will be on the 4th of August since Jeff and I will be going to Colorado for an electrical training classes on July 28th-August 1st.

Whew! What a long post! I hope I didn't put you to sleep. Zzzzz...Hehehe!!! Thanks for taking the time to read my job-hunting adventure.