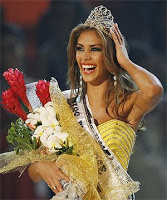 Miss Venezuela, Dayana Mendoza bested the other 79 lovely candidates in this year's Miss Universe beauty pageant held in Vietnam. The 22-year old Latina beauty confessed that she was once a victim of 'express kidnapping' in her own country and that experience taught her to remain poised under pressure.
Three other Latina beauties made it to the Top 5 Finalists, Ms. Colombia (1st runner-up), Ms. Dominican Republic (2nd runner-up) and Ms. Mexico (4th runner-up). Ms. Russia won 3rd place.
On the other hand, it was a nightmare come true for Ms. USA as she fell on stage when she tripped on the train of her bejeweled evening gown. Ms. USA made it to the Top 10 Finalists.