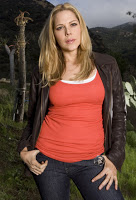 This summer, an all-new crime drama series will make our television viewing more exciting.
USA Network's new original series In Plain Sight
, which stars Mary McCormack as Mary Shannon premiers on June 1st and promises to be a good show.
But before we'll talk about the new tv series, could you take up a little picture challenge? The picture of the lead character appearing in my post can be found in the USA Network's webpage. I want you to look for Mary Shannon's picture somewhere in that site and get back to me in the comment box with the exact URL of that particular page. Let's see if you can see the hidden picture in plain sight.
The show is about Mary Shannon, a U.S. Marshal attached to the highly secretive Federal Witness Protection Program. Shannon's character in this series is based in New Mexico and

her daunting task is to provide protection for the Federal Witnesses from threats of their lives and from people who want them dead. If you want to know who joins Mary McCormack in this new show, just click the link above. Mark your calendars and don't forget to watch the premier of this show.