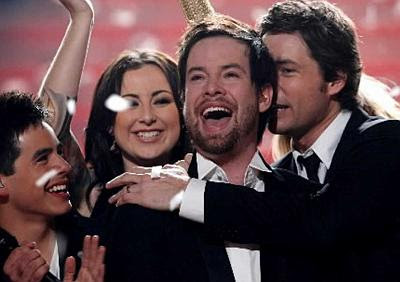 After 97.5 million votes were counted, David Cook emerged the winner by a margin of 12 million on Wednesday's finale of "American Idol." In a sense, Cook's victory came as a significant surprise. He walked into last night's show with a major disadvantage since rough judge Simon Cowell had practically anointed Archuleta the winner at Tuesday night's final performances, saying his singing scored a "knockout" against Cook. But the people's choice proved otherwise. The grown-up rocker triumphed over the sensitive balladeer in this season of American Idol. David Cook was so overwhelm with emotions that his eyes were filled with tears and said he's absolutely at a loss for words last night. David Cook sang U2's "I Still Haven't Found What I'm Looking For"
[watch here]
, Emily Shackelton's "Dream Big"
[watch here]
and Collective Soul's "The World I Know"
[watch here]
in last Tuesday's performance.