I am happy to share that last September 4th marked my 1st month of employment at the bank. After a month, there had been quite a number of good things that happened at work. I am enjoying my job so much right now. I'm still not a morning person though, so every morning waking up for work is still a drag, hehe, but I don't dread phone calls anymore. I may not be super computer geek but I've learned a lot about my job and bank operations. There's just so much to be thankful for. I feel lucky that I am here. I've got the nicest bosses ever. Our Chief Information Officer (CIO) is the type of guy who greets and make conversations even to just an ordinary staff like me whenever he sees you not just at the work premises. My immediate superior, our Information Systems Manager is the friendliest boss I've ever had. I remember on my 2nd week at work, he called and asked me to go to his office and initially I was anxious and scared that I might have screwed up at work. But he simply asked me my impressions so far with my new job, he needed to know if I started to enjoy it and if there's anything the department can do to help me enjoy my stay at work and told me that he has heard a lot of good things about me at work. That made me more serious in my craft and I'm so thankful that there are still bosses who takes time to acknowledge even simple things from their staff. My bosses doesn't act like they are hard to reach and deal with. They set a good example for our team. They are not the 'power-trip' kind of superiors. And I think that's the kind that deserve the most respect from their team.


Another thing that I liked about my workplace is it's proximity from our house and places to eat at lunch. I usually bring sandwich to work and eat it in our fully-equipped break room but during the times that I don't bring anything to eat, there's really nothing to worry about because a grocery store is just beside the building to the right, Sonic across the street and Dari-Delite (small local restaurant) beside the building to the left. Moreso, I have the option to eat lunch at home since it's just a 2-mile drive from work. Convenient, isn't it?
I'm going to share with you some photos of my workplace. It's not much but just to give you an idea of my everyday haven, I posted a few below. My apologies for the paper clutter...I'm just learning so much stuff so I had to write a whole lot of them and pinned it all over my workplace so it's easy for me to retrieve them.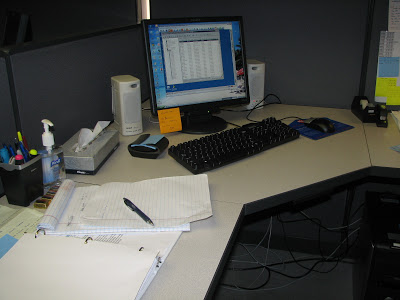 Notice the chocolates? Hehehe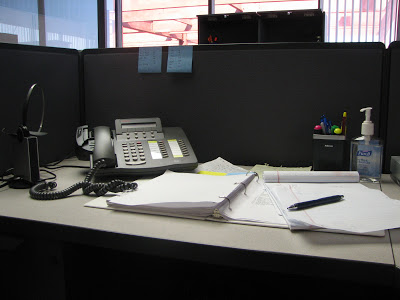 My phone and headset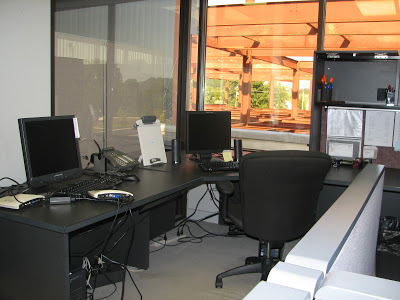 Some units that we were trying to run some test on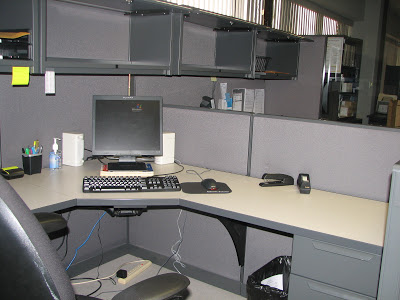 A male co-worker's clutter-free desk (He's comfortable using the E-files of our Handbook so he doesn't have any paper on his desk...Do I sound defensive? Hahaha!)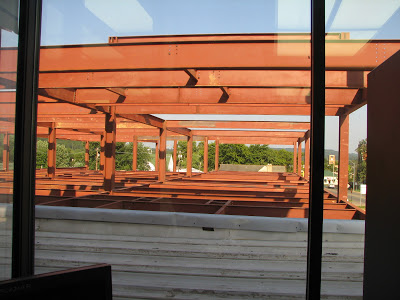 A view of our new building in construction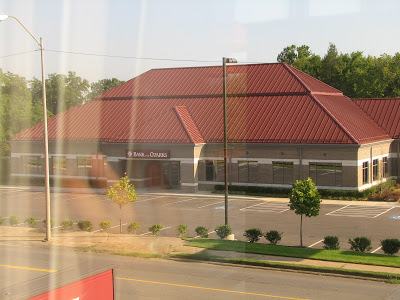 The main bank which is across the building where I work