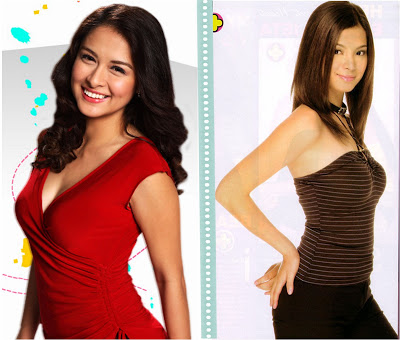 Countless times, these two pretty ladies have been compared and pitted against each other. Both have top-rating tv shows in competing networks thus making the Marian Rivera vs. Angel Locsin rivalry much talked about. The media and the fans often debate about whose show rates more, who's prettier and sexier, who did this commercial first, who replaces whom in a particular endorsement, who's got more talent....the comparison is endless.
The supposed rivalry of Marian and Angel continues to be a heated topic as both were nominated for FHM's 100 Sexiest Women. Recently, the fans of Angel Locsin have reached the heights of their support for their favorite star in this rivalry by accusing FHM magazine of manipulating the voting results in favor of Marian Rivera. Currently, Ms. Marian holds the number 1 spot while Ms. Angel dropped to number 4 according to the partial and incomplete results of FHM.
Oh well, there's no telling as to where this rivalry reaches. But I personally think it's unfair for these women to be compared with each other. They are totally different persons and equally beautiful and talented. Healthy competition is fine but if it would personally affect them and the fans, I don't think it's worth it. It's best to just let them work and appreciate them both. The world is already full of hatred and animosity, we don't need our entertainment industry to join.