One of the perks of blogging is getting freebies from wonderfully generous companies. I was ecstatic when
The Wreath Depot
agreed to coordinate a product review on my blog. Who wouldn't be? They sell gorgeous, high-quality door wreaths that will bring style and charm to the front of your home. I browsed through their huge selection of colorful floral wreaths and I fell in love instantly with this 24-inch Genesee Silk Wreath. It has a combination of Frosted Greens, Burgundy Berries and fiery bi-color Geraniums and Hydrangea heads. This wreath gives any home the feeling of an English garden in summer. Since this is very versatile looking, you can actually hang it all year round.
When I opened the package, I was amazed with the quality of the craftmanship. After all, they are expertly handcrafted here in the USA. It is indeed very well-made and is visually appealing. The color can brighten any home. The foliage leaves and flowers all compliment each other. I already have a perfect spot for it but we still need to do a trip to the store to get some hanging hardware for this beauty. This wreath is huge so I know it can easily draw anyone's attention to the front door. This is really a perfect indoor or outdoor decor if you want to set a warm ambiance to your lovely home. Quite a bit pricey but the quality of this product is well worth the price.
The Wreath Depot is actually having a Spring Celebration Sale right now. So if you're interested, check out their
website
and enjoy a 10% discount off of any wreath order, plus you get Free Shipping. Isn't it an awesome deal?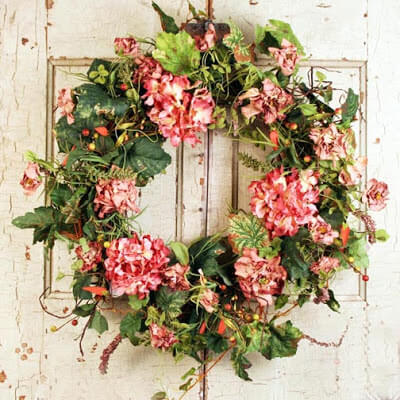 Disclosure: Product mentioned above was provided for FREE by The Wreath Depot for product endorsement/review purposes. I am disclosing this post in accordance with the FTC guidelines concerning the Use of Endorsements and Testimonials in Advertising.