I've been seeing bloggers rave about how amazing
Starlooks Starbox
products are. And I thought I gotta have one for myself as well. Last month, I received my March Starbox in the mail. I apologize for the delay of my review. Anyhow, the March Starbox is a "mixed" month Starbox, consisting of a combination of bold and neutral colors. It is valued at $40, but you get it for $15. I think that's really an amazing deal. The best thing is you get full sized items of the featured products for the month. I was excited when I received mine. Here's how the box looks like.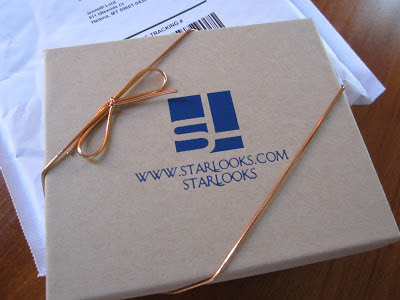 The goodies in this box includes "Flutter" Lipstick, "Disarray" Eye Shadow, Lengthening Mascara, and "Vanilla" (All Natural) Lip Sugar which was actually a surprised item. Cool!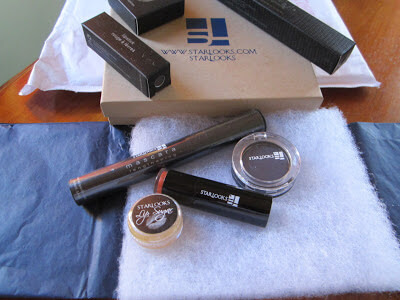 Now I'll tell you a little bit about each of the products. First, Starlooks Lipstick in Flutter is definitely gorgeous. It's a shimmery orange-hued color which translates to a rusty, golden, bronze-red on the lips. They categorized it as a bold item but really anyone can use this color as it is warm and frosty which gives your lips the right color without looking too strong. Next, is the Starlooks Eyeshadow in Disarray. It's a navy blue color at first glance but definitely a dark eyeshadow color. The great thing about this product is that it goes with any neutral colors like white, black and browns. It has just a touch of sparkle, so you can pack it on, or you can use it as an accent by applying just a hint for a light navy glisten. It's also perfect if you want to pull off the "smokey eye" look. Another product included is the Starlook Lengthening Mascara. This is a must-have for all ladies out there. It has a huge "fluffy, tree-shaped" applicator that leaves no clumps and does really give lengthen your lashes. I love this product! Now for their surprise item. Indeed, I was surprised because I didn't read the small pamphet that comes with it so I have no idea what the lip sugar is for, lol! It has this yummy vanilla smell so I thought at first it's a lip sheen. But actually it is a lip scrub, perfect for chapped lips that are in need of a little pampering. It gently exfoliates your dry, chapped lips, giving you that perfectly smooth, luxurious lips ready for your favorite lip color. So there you go, those are the items you get when you get the March Starbox
here
.

Now my review wouldn't be complete if I wouldn't share some photos of me using their awesome products. I gotta say the Disarray Eye Shadow has been the darkest eyeshadow I have tried so far and I was a bit afraid that I would look awful in these but I think I didn't look that bad, did I? I must admit I have to practice more in applying dark eye shades. I'm just so used to using browns and neutrals because it complements my dark skin. But actually I love how this eyeshadow from Starlooks look on me. I mixed it with white and blend it in. It toned down the color a bit and I really love how it looks. I gotta say their mascara does a really great job in making my lashes look full but not clumpy at all.

I can go out of the house without wearing make-up but definitely a lipstick is a must-have for me. I have pale lips so I really can't live without my lipstick. I am very particular with the shade of lipstick I use so imagine my delight when Starlooks Lipstick in Flutter happens to be the perfect copper/orange color that I have been searching for. Gosh, I cannot begin to describe how excited I was when I tried it on. I love love love the color on my lips. It also has a very strong staying power. And I love how glossy my lips look. No need for a lip gloss at all, lol!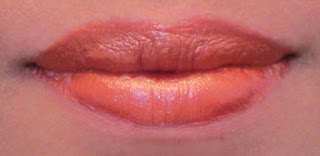 This is me out in the yard this afternoon with my "Starlooks Starbox" March look.
Thanks for reading, everyone!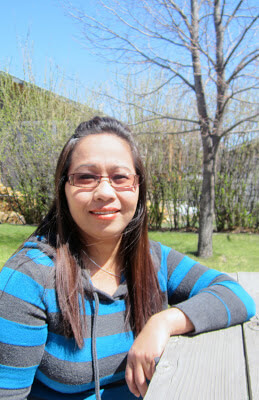 Disclosure: I received product(s) for free in exchange for an honest review, which may differ from yours. Regardless, I only recommend products or services I used personally, and believe will be good for my readers.
126
/365 Blog Photo Challenge