For those of you who don't know it yet, I turned 31 today. Gosh, I feel so old, hehehe! I used to feel sentimental whenever I celebrate my birthday. Well, that was before I've met my wonderful partner in life, Jeff. For some reason, it used to make me feel depressed when I turn a year older and there's no one special to spend it with. But it's no longer true right now and I feel so happy and blessed that God gave me Jeff. It's like my best birthday gift ever from HIM.
Even if I still have to go to work today, it still felt really special and different. My mom and my sister called me first thing in the morning to greet me a Happy Birthday. They may be million miles away but it warms my heart to know that they remember this day. My friends back in the Philippines didn't fail to greet me as well. I got a couple of cards from my best Multiply buddies namely Eden, Wena and Jowen too. There might be more but I just probably haven't received them yet. I am really so thankful for all the greetings, guys!
My babe staged little surprises for me when I got home. He actually took a leave from work to prepare all these for me. I'm so overwhelmed by his love and effort to show that I am special. He's got some small gifts for me but what really surprised me is the strawberry-chocolate home-made cake that he baked today. Hahaha! I didn't expect it. I mean hubby doesn't bake that much. I know he loves to bake and all that but he told me himself that he's not very good at it. But the effort alone melts my heart. The cake doesn't really look fancy unlike the ones that you see from the stores but as I've said the time, effort and love that he'd put into it are priceless. I love how it tasted. It's chocolatey with a little hint of strawberry flavored covering. It's yummy. Once again, he showed me in a lot of ways that I'm very important in his life. I so love that about him.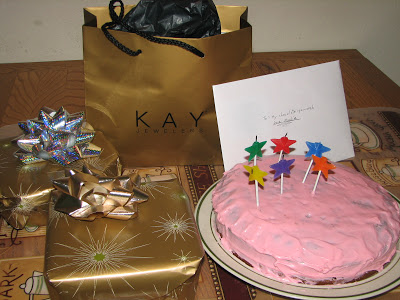 Some gifts from hubby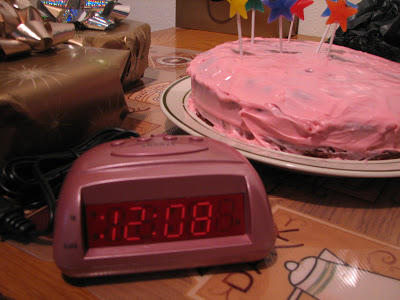 A pink alarm clock. We already had one but I need another one for me 'coz after he leaves for work, I would go back to sleep and change the alarm settings and we would change it back again in the evenings, hehe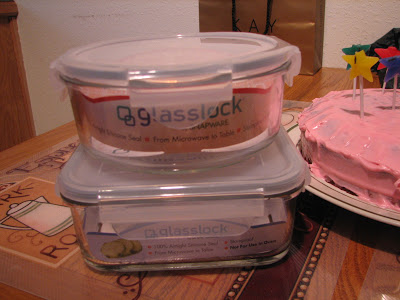 Bowls that I can bring to work if I choose to bring soups or sandwiches. I'd make sure these will be hidden in my drawers 'coz until now my olive green bowl is nowhere to be found. Huhuhu!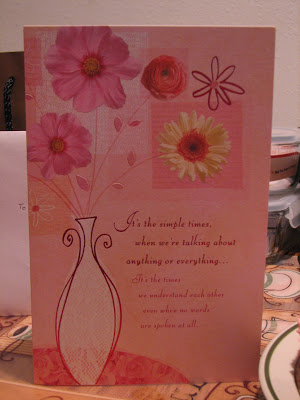 Birthday Card with a very loving message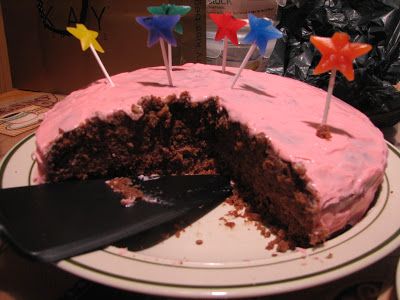 The Cake
The last but not the least, A Bulova Watch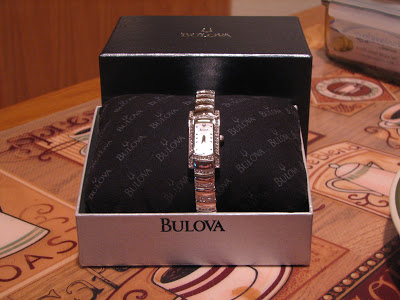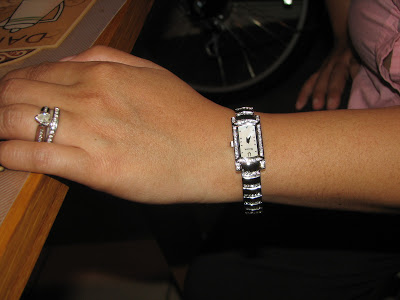 It matches perfectly with my rings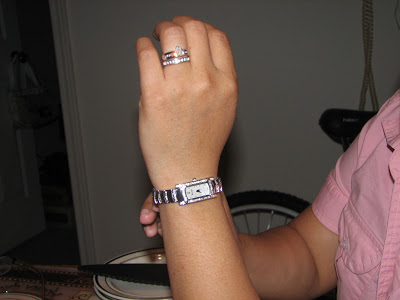 This is definitely one of my best birthday ever. Thanks again to all my friends, my family and my Jeff. I have to end this 'coz we're still going out for dinner. I thought the celebration ends here but apparently, it doesn't. Hehehe!