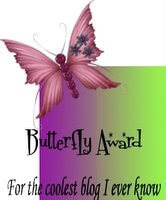 I am so flattered for being chosen as one of the coolest blog by my good friend,
Jacy
. I apologize for the late posting, Jace. It's just been hectic lately. But I am so happy to get the award from you.
Put the logo on your blog;
Add a link to the person who awarded you;
Nominate 10 other blogs;
Add links to those blogs on yours;
Leave a message for your nominees on their blogs;
Give a reason why you consider their blogs cool.
I am sharing this award to everyone in my blogroll. All of you deserves the recognition as we all know blogging can be demanding and maintaining a blog is definitely hardwork. Feel free to grab the award and cheers to all of the dedicated bloggers worldwide.