After the terrifying tornado warning experience yesterday, I treat myself and hubby with a yummy dinner. I got this recipe from my sister in Illinois. She has a knack on cooking fancy American meals. Most of my recipes are from her and my mom. Anyway, I tried her Pot Roast Beef recipe after days of eating straight Filipino meals like dried squid, fried tilapya and sauteed squash with pork. It turned out to be so mouth-wateringly delicious. I ate it with rice. Yeah, I just can't eat without rice at all, lol. Included here is the recipe in case you'd wanna try this too.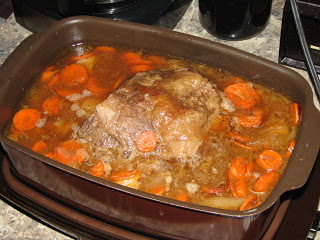 2 tablespoon unsalted butter (stick)
1 tablespoon sunflower oil (vegetable oil)
1 large onion cut into wedges
3 lbs. boneless pot round or rump roast
3 carrots peeled and thinly sliced
3 medium white potatoes cubed
2 bay leaves
½ teaspoon salt
2 envelopes (1.4 ounces each) onion soup mix Lipton
1 tablespoon cornstarch

1. Heat the butter and sunflower oil in a large skillet. Add the onion and beef. Brown the beef on all sides. Transfer the beef and onion to the slow cooker.
2. Arrange the carrots, potatoes and bay leaves around the beef. Sprinkle with salt. In a heat-proof bowl, or measuring cup, combine the soup mix with 3 cups boiling water, stirring until smooth.
3. Pour the soup mixture over the beef and vegetable in a slow cooker. Cover and cook on high until the meat is very tender about 4 hours. (I cooked mine about 7 hrs., depending on how tender the beef you would like to be)
4. In a medium sauce pan, combine the cornstarch in about 1 teaspoon water, stir to form a paste. Add 2 cups hot liquid from the slow cooker and bring to a boil, stirring until the gravy has thickened. Slice the beef and serve with vegetables and gravy.
Bon appetit!