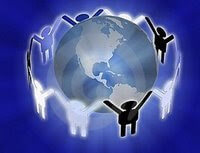 This is my first award and I'm thankful to my friend,
Lira
. I'm new to blogging and I never expected to gain friends while I'm here. It's wonderful to blog but I think it's more rewarding to have new friends all over the world. I truly appreciate the friendship. I enjoy reading your thoughts about different matters in life. I wanna take this opportunity to thank my friends online who were interested to know me better thru my blogs.

I am now forwarding this circle of friends award to
Francine
,
Borski and Nai
and
Monica
. Have a nice day, guys!