Who would have thought that some of my favorite sweet indulgence do not only satiate my sweet tooth but they can be healthier as well because they are organics? Well, thanks to
Newman's Own Organics
. Just recently, I was lucky to be a recipient of a box full of tasty, yummy treats from NOO. As a blogger, I sometimes work with certain companies to sample their products in exchange for a product review. I couldn't believe my eyes when the package of goodies arrived. It was like a month's worth of munchies for me and my family to enjoy. As a matter of fact, my 2-year old couldn't decide which treat to try first, lol! Newman's Own Organics went all out in sending sample goodies to bloggers. Why not? Their extensive line of organic products are amazing and are sure to leave consumers raving about its yummy goodness. So it's not only me who get to try their products but they have also generously offered to send my four favorite items (plus a surprise fifth item!) to one lucky My Sweet Haven reader. Just keep on reading because I will be talking about the simple mechanics of the giveaway below.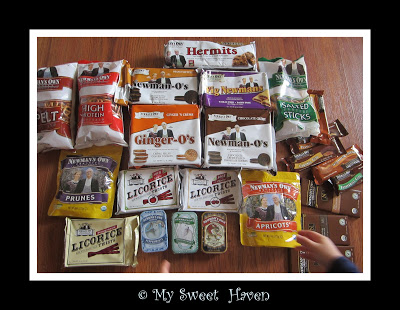 Now here's my two cents worth about the products that I got from them. Did I mention that I absolutely love dark chocolates? Obviously my top favorite among their expansive line is their Signature Series Chocolate Bars. Both the Espresso Dark and Dark Chocolate have 54% cocoa. It has the right amount of richness, chocolatey flavor without being too sweet. I found out that I am not the only one in our household that go crazy over chocolate bars, lol! My little monkey helped himself with one of the bars while I was busy taking pictures. He takes after me I guess, lol!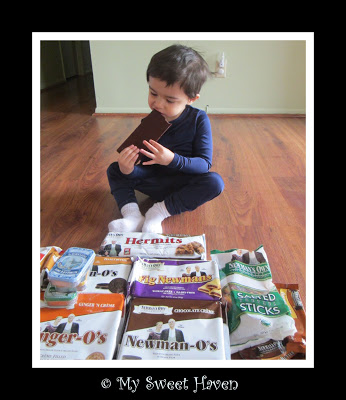 I was so excited to share the good news with the husband so when he got home from work that day, I immediately asked him to try them and tell me which product he likes the most. To which he replied, "Definitely the Salted Sticks and High-Protein Pretzels!". No wonder Caleb snagged one of the pretzels so he could try it himself. Personally, I don't much care about pretzels but since hubby and Caleb seemed to like it, then that counts as my second favorite among their product lines. Pretzels are versatile and a lot of people consider it as their comfort snacks. The good thing about NOO pretzels are they're baked (not fried), so they make a great low-fat healthy snack even for the diet conscious individuals.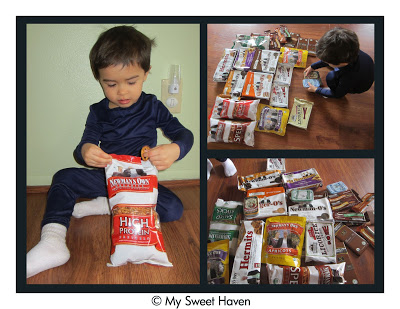 Pardon me for saying this for the umpteenth time, that I am a sweet-tooth person. Again, I was just so lucky that day because the box contains 3 different varieties of Newman O's cream-filled cookies. The peanut butter and chocolate cream cookies are my 3rd favorites. The cream fillings were soft, not overly sweet and does not have the greasiness that you get from store bought cookies. Best of all, they don't contain high fructose syrup and no artificial color or flavor. They really stood up to their promise of providing healthier snack alternatives without comprising the goodness of cookies that we all have come to love and enjoy.
Since I'm a self-confessed chocoholic, my 4th favorite would be the peanut butter and caramel dark chocolate cups. Actually it's the hubby who tried it first and was amazed with its goodness so he told me to try it as well. And he was not mistaken. These make the other peanut butter cups taste bad. I found the peanut butter to be smooth and creamy. When you combine chocolate with peanut butter, I think it's a sinful combination, lol! I like the crisp snap of the dark chocolate contrasting with the creaminess of the peanut butter center. Aaah, yummy!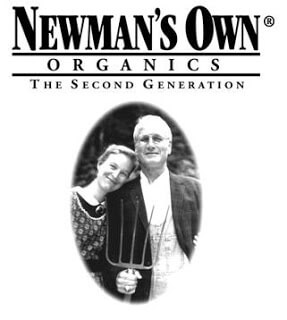 So that's it! All in all I thought Newman's Own Organics are definitely great products and I am thrilled that I was able to try them. If you're interested to check them out yourself, visit
Newman's Own Organics
website. You can also check them out on their
Facebook
page.
As for the giveaway, it's actually quite simple to join. All you have to do is to enter via the rafflecopter below. Open to all US residents only. Giveaway ends 4/15/13 and winner will be contacted within 24 hours
using the Name and E-mail Address used when leaving a comment. Goodluck!
a Rafflecopter giveaway