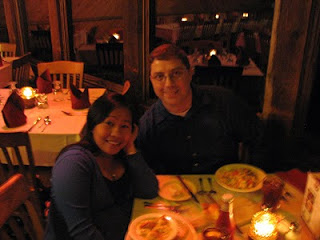 This was taken last October 27th at our 3rd Anniversary dinner date. Yes, we have been married for 3 wonderful years now. We've known each other for 5 years if we were to count the first time we've met online. It took 10 months before we finally met in person. Then he made 2 trips to the Philippines to see me before he proposed. And the rest, they say is history!

A lot of great things have happened since then. We were married twice. One wedding was a simple church wedding in the U.S. Two years after, my dream wedding was made into a reality when we had a grand Catholic church wedding in the Philippines. And now as we continue further on our journey together, we're expecting a baby boy! We feel so blessed and everything just seems to fall into place.

Marriage is a continuous adjustment process. You learn both good and bad things about your partner each day. But I think that's what makes the whole relationship exciting. It would have been so boring if both of you were created perfect, or if you share ALL the same interests in life. Of course we have some common interests and quite a few differences, but I'd say we're very much compatible which makes it so much easier to adjust to each other's individuality. As long as both parties are willing to put forth the effort to make the marriage work, there's no strong storm in life that you can't face. After all, you have God and each other to lean on and draw strength from.
I'll leave you some photos from our 2 weddings. Enjoy!