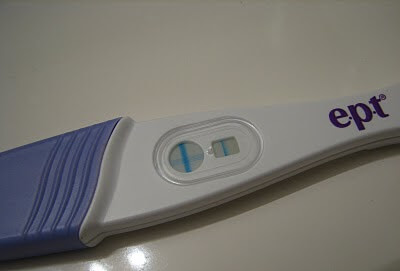 I couldn't be positively sure because we haven't gone to the doctor yet for a confirmation but I think I am pregnant. I've been feeling hell lately, lol! I don't usually take naps in the afternoon but for the past week, I can't bring myself to stay up all day. I've been feeling nauseous. I get hungry all the time. I have headaches almost every day for past few days. I've missed a period. My breasts feel so sore, tender and swollen but it could also be a sign of impending menstruation, right? So even if I'd like to think I'm pregnant, this might just be a delayed period.

However, the changes in my body that I've been experiencing lately seemed hard to ignore so we bought some home pregnancy test kits. EPT says when you get a (+) sign on the round window, it is positive. (-) horizontal sign on the other hand means negative. I tried it three times on different days and it looked like a faint (+) sign to me, don't you think? So I think it's positive. Hmmm, am I really pregnant? I've read that sometimes these kits tend to give false positive results that's why I'm still having second thoughts about everything. I wish it's that easy to see a doctor for a confirmation. I tried to call an OB Gyne's office today for an appointment but I only get an answering machine. Are they really that busy? I'll try again tomorrow and probably just leave a message and see if they'll get back with me.

Oh boy, am I excited! Haha! Jeff and I were ecstatic and we started thinking about baby names, already, haha! But I don't want to keep my hopes up and be told by the doctor that I'm not actually pregnant. If I'm not pregnant, I may have been just having some serious medical condition to feel this ill as of late. But I'm really hoping that I'm pregnant. Dear God, just let me be pregnant! Gosh, I wish I could get some accurate blood test right away to verify everything.