Today is a pretty busy day for us. I had a doctor's appointment in the morning. I was actually a bit apprehensive with this doctor because I've heard that even if he's a pretty smart one, he seemed to lack good bedside manners. But the visit actually went pretty well. He appears to be approachable, professional and most importantly, he answered all of our questions really good. The doctor confirmed that I was already 9 weeks in the family way. He prescribed me some prenatal vitamins and reassured me that everything that I have been feeling lately is just normal including the mild cramping that I experience sometimes. My blood pressure is normal. They also did some blood work for further analysis. My next visit is on May 28th and I am scheduled to have a pelvic examination done. We might be able to hear the baby's heartbeat on our next visit as well so we're pretty much excited about that. I felt relieved to have been able to talk to a medical professional. Now I won't stress too much about my morning sickness. I'll try to savor the experience, after all, it's a wonderful blessing from above.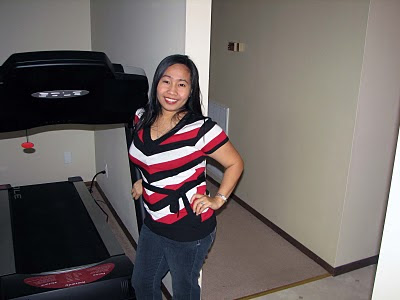 On the way to DR's appt.
(Kutob nalang ta ani tapad sa treadmill, mura dugay dugay pa jud ko kagamit ani ug balik
)
After the appointment, we shop around for my first vehicle. It was part of our plan to get a new vehicle once I get pregnant. The baby definitely have no room in our truck. And I need a vehicle to get around especially in my condition. I don't have any particular car in mind actually. What matters to me really is that there must be enough room for the future baby, so a slick 2-door sports car is not an option, haha! A real nice small, girly and compact SUV such as Ford Escape, Nissan Rogue, Honda CRV and maybe the small Ford Explorers would be good options for me. I'm also looking into Nissan, Ford and Chevy cars. I saw a 2010 Ford Taurus in Cherry Red and a Nissan Maxima this morning that I have kinda liked so far. We're not yet done looking so we're hoping for more options in the next few weeks. Of course, we have set a budget range for the price that we're willing to pay so it's not a "sky is the limit" thing here, haha! Having a baby tends to be expensive so more than ever, this is the time that we need to be very wise and practical with our spending. The last thing we want to happen is to be burdened with financial problems. We don't want to be indebted up to our eyeballs so we're taking things easy. I trust hubby in that aspect. He seems to be pretty good with money and saving than me, hehe. So I know he'll make good financial decisions for us.