I haven't written any updates on my blog lately. I just did not feel motivated to write anything but actually, there's been a lot of good things to write about. Over the weekend, Jeff and I had a movie date.
Have you heard about the movie "Twilight?" You have probably watched it yourself as well. I was hoping to read the book first before watching the movie but I've read from a blog that it's ok to watch the movie even before reading the book so we went ahead and give it a shot. We liked it! I didn't think Jeff would but yes, he did like it too. He went inside the theatre not knowing the plot of the movie so he was a bit surprised when he realized that it's about a lovestory of a vampire and a mortal with its complications. They say it's still good to read the book so we're gonna get a copy of it as soon as it'll be available in bookstores again. This will be our next Harry Potter book reading bonding. Yes, you've read it right! We've read the whole HP series together before going to bed. It seems like Twilight series would be our next book bonding session.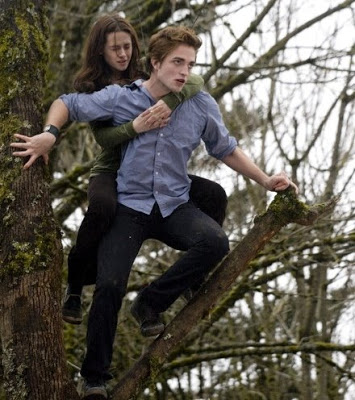 Alright, time for work updates...We had our Christmas Potluck today. We have food and everything but it's not quite the same as what we used to do back in the Philippines. No exchanging of gifts, no games, no program, no nothing, hahahaha! We simply had lunch and that's it. The food was yummy though. There was a dessert there that I really like. Too bad I didn't know the name of it. But it's kinda like an Orange dessert. I love it!
Now, for winter weather updates... We had an ice storm since last night. I was surprised to see Jeff in our parking lot when I get off from work last night. He was worried about me because he knew that I am inexperienced when it comes to driving on ice so he went to pick me up at work. Wow, my ever thoughtful husband was in action again! The weather didn't get better this morning but at least they put sands and salt on the roads to melt the ice and create more tire traction. I was late at work for the first time but I was not the least bothered about it. My co-worker didn't even get there until it was around 10:30. You can only see few vehicles on the streets. This is like one of those typhoon days in the PI, when classes are suspended and most people just chose to stay at home than work or have fun. I asked my boss if I could leave an hour early today so as not to drive home in the dark on a very icy weather. He was ok with it and I'm thankful. I hope it's going to be a better day tomorrow.
Hmmm. I can smell the steak from here. Hubby is broiling some steaks for dinner. I gotta end this and eat dinner now. I am famished!!!