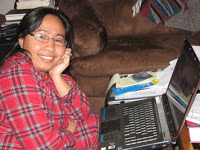 I saw this tag on a couple of blogs, but I am not so wild of joining because I know I'd look disgusting after a long day at work. But I just could not say no to my good friend,
Vikki Lyn
, that's why here I am sharing to all of my readers the real me on my jammies while blogging. Thanks for this tag, my dear. I'm gonna tag
Lou
,
Joanne
,
Juliana
,
Mystique
,
Monica
,
Wena
, and
Hazel
.
Here are the rules:
1) Take a picture of yourself right NOW!.
2) DON'T change your clothes, DON'T fix your hair... Just take a picture.
3) Post that picture with NO editing.
4) Post these instruction with your picture.
5)Tag 10 people to do this..