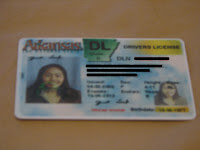 Nope, I am not selling anything here. The title was just Jeff's idea when I asked him to think me of a catchy phrase for my blog. I'm sure you've heard of something similar from a U.S. tv commercial.
Anyway, let's get past the title's significance. The real purpose of the blog is to announce that after the painstaking practice to drive, I triumphantly passed the practical driving test on a first try and got my Arkansas Driver's License yesterday afternoon. I couldn't describe how ecstatic I was when the examiner told me that I passed. As what my title suggests, the look on my face was priceless.
Of course, it wasn't an easy journey. I had my share of frustrations while I was on the road to practice. I dreaded the first few weekends of practice. I can't make myself get excited with the idea of driving for one month. I took driving lessons in the Philippines two weeks before my flight here in the US but it didn't give me the confidence to drive at all. Like most of you here, I was a struggling wanna-be driver. I was even skeptical to take the test at first but hubby encouraged me to try. The night before I took the test, I couldn't get enough sleep. On the day of the test itself, I thought I was gonna explode with extreme nervousness. I was just consoled with the idea that I can still take the test again if ever I'll fail. But God is just so good, He let me pass. It's such a big boost to my confidence.
I couldn't have made it without my $16.99 seat cushion. As you probably know by now, I am so short that I find it hard to see above the road clearly. It was such a great help. Most important of all, I couldn't have made it without my ever supportive Jeff. He's my patient driving mentor and exceptionally loving husband. He never loses trust and confidence in me despite my obvious road blunders. The police officer who gave the test and the guy in the revenue office who made me pay $26.98 for my license, they took part in my driving experience on this foreign land. After that being said, the results was worth all the struggles. It was definitely PRICELESS!!!