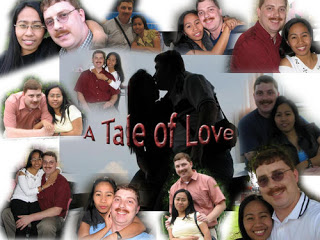 Have you ever fallen in love? I think most of us have experienced varying degrees of love and intimacy, be it in our relationships with our family, friends and special someone. I would say that love towards the opposite sex is the most mysterious. When we start to build a relationship with someone that we like, there are so many questions that seem to nag at the back of our minds. How can we know that this is love...When can we say that we're in love...How can we be sure that he/she is the one..When will be the right time to vow a lifetime spent with him/her...Oh, it is so difficult to get accurate answers. The reality remains that relationships don't have guarantees. It takes a lot of effort to make it work and it takes more than just saying you love the other person to make it grow.



THE PAST:
I had never been so lucky with my past attempts to build a relationship. Like so many of us who fell in love, I felt pain, frustrations, sorrows, disappointments in my quest on finding my true love. True love has been very evasive in my experience and there were times that I thought to myself that I was not worth-loving. Well, yeah, I guess I was just being overly sentimental, but then, I think I reacted like many other normal persons would react. I find it hard to brush away the feeling of insecurities and uncertainties that were starting to creep in my mind. Though even during those most dispiriting moments, there's still that faint hope inside that the right one would come along, but I just wasn't certain when.

THE PRESENT:
I find love at the time when I was willing to just give myself time to enjoy being alone. When I didn't allow myself to feel the pressure of finding it, to feel the need of having it, to feel the urge of

meeting someone to love. When I just let myself enjoy the things that surround me even if I was loveless, that was the time when Jeff came along. We both gave ourselves time to enjoy the feeling of having someone to talk to just about anything under the sun. We both feel that we liked each other but of course there's this haunting feeling of failing again so we never rushed things. We believe in perfect timing and after talking for 10 happy months, we decided to meet in person. He turned out to be more wonderful to be with in person. There was never a dull moment when I was with him. Everything feels so right. He simply made me the happiest girl in the planet. Sure, we experienced adversities, but we never let it overwhelm us. Instead, it helps build character in us and it makes us appreciate each other all the more.




THE PROPOSAL:
When I try to recount what had happened during that day, I usually end up at such a loss for words. It was a perfect romantic moment that I wanted to share to my friends but I know words won't do justice to the real thing that ever happened on that day. However, I want to relive that night by sharing it to all of my multiply friends.

Hotel Veniz Balcony
Baguio City
Thursday, December 21, 2006

After spending a wonderful time at Mine's View Park, Baguio, we went back to the hotel to get some rest, then we ate dinner. Jeff wanted to take me to a fancy restaurant but we both didn't know which place to go as it was both our first time to visit Baguio. We ended up having pasta at Don Henrico's for dinner, lol. I have no idea what was in stored for me on that night. I knew that the most important purpose of his second trip to the Philippines was to propose for marriage but I didn't think it would be on that night. I was half expecting that he would do it in Baguio but it never occurred to me that it would be on that night. The date with him in Mines View Park during the day was fantastic enough so I never thought that there's still some more fantastic thing to happen on that day. After we binged in with our favorite pasta, he led me to the dimly lighted balcony of the hotel. The breeze was cool and the city lights were relaxing to look at. We were on the fifth floor and the balcony offers an enticing view of the city at night. It was a very romantic moment. I wished it never had to end. It just felt so wonderful to be so close to him in that ambiance. With arms interlocked, I lean on him while we both gazed at the beauty of the night before us. Then suddenly he had to pull away. I thought he might need some air, but he just took something in his camera case. I couldn't figure out what it was because the place wasn't fully lit but when he took my left hand and slipped a heart-shaped diamond ring into my finger, it was then that I realized this must be the moment that I've been wishing for. Down on one knee, he asked "Will you marry me? I was speechless for a moment. I felt an indescribable feeling inside. I was so overwhelmed with emotions. I hugged him so tight and we kissed then I gave him my answer. Of course, it was a sweet "YES!"

I have watched scenes like that in Hollywood movies and though it warms my heart to see couples do that on screen, it didn't really have any meaning to me at all, until it happened to me personally. I think this is one of the best, if not the best moment of a girl's life, to be asked by her boyfriend to spend the rest of their lives together. When I said yes to Jeff, it wasn't just a simple answer to the question but for me, it was a symbolic yes to a challenging life that we have to face together in the future.