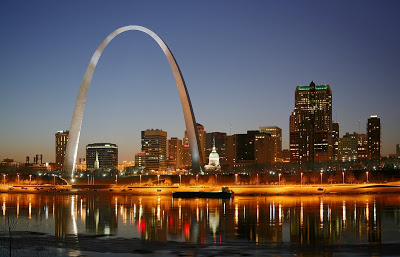 Travelling to new places is fun and that's something Jeff and I love to do whenever we get the chance. The weekend after valentine's day was a perfect time for us to stay out of the house and do something fun and exciting. We packed our stuff and hit the road for an approximately 9-hour drive to the beautiful and largest metropolitan area in Missouri which is St. Louis. I've been to some big cities in the US like Chicago and Little Rock and St. Louis turned out to be what I expected. The tall buildings, wide roads, numerous business establishments and wondrous tourist spots are all sprawled out in the whole metropolis.
There are so many things you can do in St. Louis. For me, the highlight of them all is the visit to the city's best known landmark, The Gateway Arch. The Arch is the tallest national monument in the United States at 630 feet. The span of the Arch legs at ground level is 630 feet, the same as its height. The Arch sways a maximum of 18 inches (9 inches each way) in a 150 mph wind. In order to get to the top, you'll have to ride in an enclosed tram which leaves at least every 10 minutes.
The ride was safe and it travelled in a comfortable speed so it wasn't bad at all considering that both of us are afraid of heights. Sometimes you'll just have to overcome your fear and experience a little thrill and adventure once in a while, though I must admit that I really didn't look out all throughout the ride to the top. I didn't have to anyway because the real treat was when we were already on the top of the arch and we had this magnificent view of the entire city of St. Louis. It was so windy that day and it was the perfect time to feel the swaying movement of the arch against the strong wind. It's like you're on board of a ship on rough waters only this time you're actually hundred feet above the ground. It was truly an amazing experience for us.