I got this from
Francine
,

and I'm posting it here so all of my friends can join us too.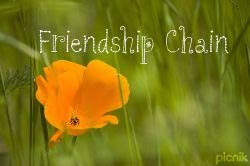 This is the easy way and the fastest way to :
1. Make your Authority Technoraty explode.
2. Increase your Google Page Rank.
3. Get more traffic to your blog.
4. Makes more new friends.

Rules :
1. Start copy from "Begin Copy" until "End Copy" to your blog.
2. Put your own blog name and link.
3. Tag your friends as much as you can.

1. Picturing of Life 2. La Place de Cherie 3. Chez Francine 4. Le bric à brac de Cherie 5. My Sweet Haven 6. ADD YOURSELF HERE!!!
~~END HERE~~
I'm inviting lis, sexymom, ethelbert, csseyah, a fil-am journey, and princezz .