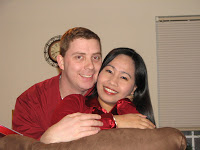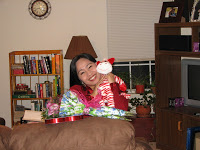 Like so many other couples, we had a very special date on Valentine's Day. We've been together for three years now, but this is the first time that we get the chance to actually celebrate it together physically. The last two years were painful long distance years of our lives that's why we both really look forward to celebrating many events in our lives especially the Day of Hearts to make up for the lost time.
I believe so much in romance and surprises and I feel so lucky that my hubby never fails to show how much he cares about me. It's a wonderful feeling when he tells me "I love you" but it's heaven when he does things for me and gives me surprises like I'm the prettiest girl in this planet. He is such an expressive and mushy guy and it doesn't bother me at all. I loved it when he surprised me with flower delivery at home while he is at work even when there's no occasion at all. There's never a day that I can't say that my hubby loves me and that I'm the most important thing in his life. He is very much good in expressing that he cares.
Our valentine's date was one of the best times that we shared together. I got a bouquet of roses and of course chocolates and a cutie lil red stuffed zebra from him. We had a special dinner in a restaurant after we stopped by at a park and enjoyed a few moments of just being alone together away from other couples who were also dating on that day. I love my hubby so much and I don't only appreciate the things he has given to me but the way he express his love for me is exceptional and that is beyond compare.