Highschool life...What can I say?
It seems like it's been ages ago, haha! I wouldn't deny that highschool was one of the funniest moments of my life, I'm sure a lot of you would agree with me. We were young, carefree and innocent back then. I was
not
as free as most of my highschool friends because I think I had the two strictest parents in the world, haha. But I still had my fair share of bonding moments with them. I got the inspiration to blog about this after I've read
Bchai's story
about her first grade class picture. Unfortunately, nobody seems to have an old picture of me back in grade school anymore. We moved a lot and digital cameras are not "in" back then so probably typhoons in Cebu managed to destroy all our old albums. But thankfully, I found these photos below from a HS classmate's Facebook file. Boy, was I glad to see a skinny version of me from the early 90's, haha! Of course, some
unflattering
photos of me back then made its way to Facebook albums as well courtesy of my ever diligent HS schoolmates, lol. I'd be glad to share those to you as well but I couldn't remember now who uploaded them. No, I'm not making excuses here, lol. I really tried to look for it so we can laugh altogether, but thank God I couldn't find it.*battling eyelashes* One photo of me from a seminar in Dumaguete City when I was a sophomore merits a call from my sister in Illinois, only to hear her giggling like crazy on the phone and be told that I looked like a teenage boy in that picture and that she hardly recognized me but blood is thicker than water so she's pretty sure it was ME after all. Great! Thanks, dear sister! LOL...Oh, how I love Facebook! Anyway...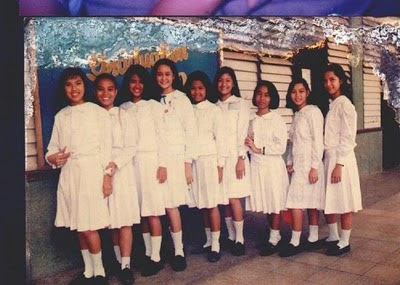 This is US in our
gala
uniform. If I remember it right, we would wear this once a month and also during feastdays or any kind of church celebrations. By the way, I went to a Catholic school, St. Nicholas Academy. I am the shortest gal, 3rd from the right, if you still haven't recognized me. Two of these pretty ladies, 1st from the right
Charlit
and 4th from the left
Jeany
were there at my Philippine Church wedding last January. The rest are now living in the U.S., Singapore, Canada and Dubai.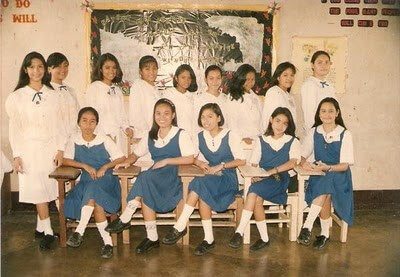 It's me again with some of my lovely classmates in our
blue
uniform which is the school's regular uniform. I am the one in that unhappy looking pose, hehe, first seat from the left.
I miss highschool. I'm glad I have these photos to remind me of those days. How about you? Do you still have some of your old highschool photos? How do you look back then? Does it make you feel ancient when you take a look at them now?