I've noticed so many bloggers talk about vacationing in Branson, Missouri. I couldn't blame them, Branson has so much to offer for kids and adults alike. I've experienced it myself when we had our vacation there 2 weeks ago. As what the title suggests, this post is a continuation of our Branson escapade. The place has lots of museums of different kinds. We visited three of them. I'm gonna talk about each of them. Let me start with...
Remember the infamous luxury liner that sank in the Atlantic Ocean in 1912? Remember the love story of Jack and Rose? Well, there may not have been real Jack and Rose in that voyage, but the world will continue to get fascinated with the facts relating to the world's historic maritime tragedy. The Titanic Museum was filled with photos, memorabilia, facts, trivia and all kinds of exhibits both from the real Titanic wreckage and the very famous movie Titanic over a decade ago. But they don't allow photography inside so we only have this one photo of the outside of the museum building. It sure looks like a ship, doesn't it?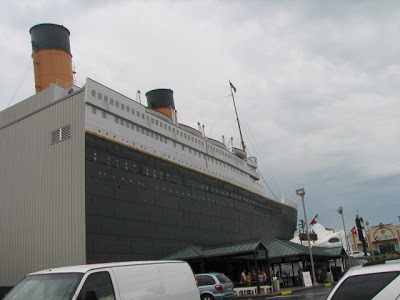 Our next stop...
Our last stop...
Veterans Memorial Museum
. Hubby is fascinated with History. He loves to read books about history and culture of different countries. This is the only reason why I included this in our itinerary. I may find it boring but I know he will find pleasure in viewing exhibits from historical museums.
I hope I didn't bore you with my photos. I just love to photograph all of our travels. I enjoy it when we visit places and no matter how busy we are with work, we try to find time to take vacations. I'd like us to explore the western region of the U.S., so I am considering
Vegas vacations
in the near future. My newly-wed cousin had been there for their honeymoon and I'd love to see Las Vegas, as well. We could swing by the city when we visit them in Colorado soon. Awesome!