I must admit, I'm a sucker for nice handbags. I had to literally restrain myself from shopping for handbags. Before I had Caleb, I owned quite a lot but I realized it has been collecting dust in the closet when I decided to be a stay at home mom. So I packed everything but one in a Balikbayan box and send it to my family in the Philippines. Now that I am getting back in the workforce, I think I will be shopping for purses again, lol! I currently own five but I feel like I need more, lol! This beautiful Love Lock Handbag in White from
LDuncan Apparel
came just in time. I was given the opportunity to review this handbag from LDuncan Apparel. This comes in a stunning Hot Pink color as well but unfortunately they are out of stock at the moment.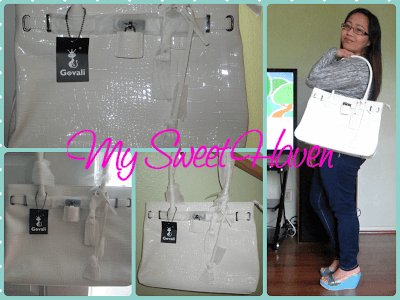 I definitely love how roomy this bag is. I can literally pack all my junk essential items that I can't go to work without like my wallet, cellphone, IPod Touch and ear phones, keys, face powder, lipstick, and of course my lunch and snacks for work. This is an alligator embossed which features a twist lock and compact design. It's a classic look and color which never goes out of style. And it's reasonably priced so even stay at home moms who adores handbags but are not working can still be able to afford to get lovely designed handbags for only a fraction of the cost. The quality of this handbag seems great. I have been using it to work and I received compliments from the people I work with.
For those of you who are interested, LDuncan Apparel is an online retail store that specializes in fashionable accessories at affordable prices. Their product lines cater to both men and women who want to look fashionable and trendy. Some items that they carry include t-shirts, hats, belts, bags, jewelry, sunglasses and wallets. So definitely check out L Duncan Apparel. They have what every fashionista by heart will be looking for. To learn more about them, you can also check out their
Facebook
page and follow them on
Twitter
.
Disclosure: Product mentioned above was provided for FREE by L Duncan Apparel for product endorsement/review purposes. I am disclosing this post in accordance with the FTC guidelines concerning the Use of Endorsements and Testimonials in Advertising.