The Memphis adventure continues...
As I've mentioned before, that trip includes a lot of food binging. I wouldn't be surprised if I gained back the minimal amount of weight that I lost from our Philippines vacation. After all, it's easier to gain weight than lose it, right? Anyway, on Valentine's Day itself, we were supposed to do 3 things. Go mall shopping at Wolfchase Galleria and visit Pink Palace and National Civil Rights museum, but both museums open at 1:00 p.m. and close at 5:00 on Sundays so we thought we could only hit one museum when I'm done shopping and call it a day. But I lost track of time and didn't realize it was already 4 until it felt like I was literally ready to drop from exhaustion. Jeff was usually just seated in one corner reading a new book he bought at the mall, unmindful of his wife's predicament, haha! Well, that's way better than him hovering around, probably feeling silly standing in a women's intimate apparel section. I know guys normally don't go crazy over shopping so I'm fine with him just waiting on me somewhere in the mall.
Some of the stuff that I bought are hoodies and jackets from Aeropostale, Tommy Hilfiger cool pink sweaters, a pair of boots from Macy's, some colorful jammies, Victoria Secret garden collection for Mama and other good deals from JC Penney mostly winter clothes which I failed to take a picture of. The red love bug was a gift from hubby.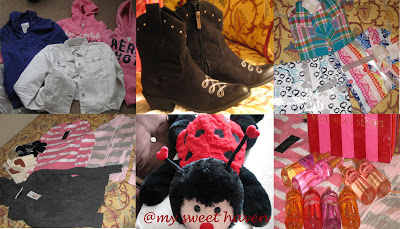 Since we didn't have time to do anything else besides shopping, we went straight to
Bonefish Grill
. We didn't make any reservations so we expected having to wait. It took an hour before we were ushered to our seats. Restaurants are crazy on Valentine's Day. It was raining so hard in Memphis that night but apparently, it didn't stop people from celebrating.
I ordered their specials for that night,
Rockefeller Mahi-Mahi
. It's wood-grilled and topped with sharp creamy spinach and lump crab served on Jasmine rice. It was excellent. Jeff had
Lily's Chicken
. It was chicken breast, goat cheese, sautéed spinach, artichoke hearts and a lemon basil sauce.

I have been told that barbeque in Memphis is excellent so we didn't miss the chance to try it. I did some research and found good reviews for
Cozy Corner
. I meant to take a picture of the food once served but it was only until after I ravaged most of my pork sliced bbq that I remember to take a picture so here it was. Sorry for the not so pretty shot, hehe. It was the best pork bbq I've ever tasted so far. I've had a few in Ozark but it didn't make my mouth water like this one, haha!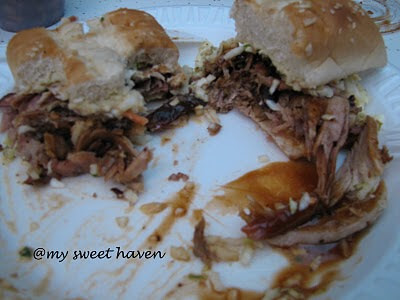 On our last day in Memphis, before we leave the Tennessee border, we had another barbeque stop at a different place this time.
Central BBQ
has raving good reviews from people but Jeff and I think it's only second best to Cozy Corner. I had smoked sausage that time, while Jeff had pulled pork sandwich.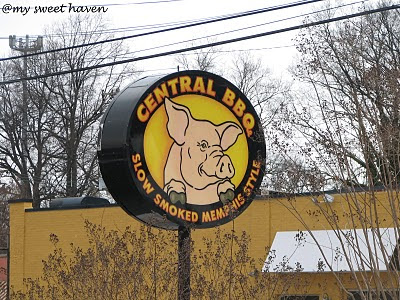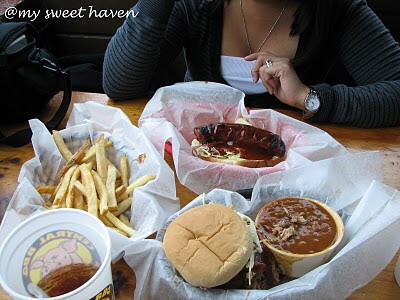 This is me looking on the food intently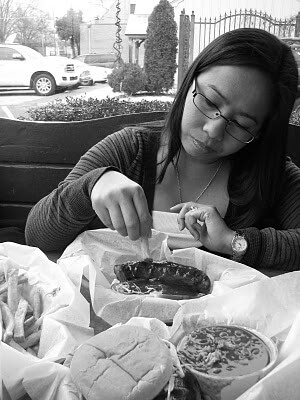 While driving out of Memphis, we saw this fully decorated, colorful
tartanilya
or horse and carriage ride as what Americans call it. Jeff asked me if I'd like to ride in one as it's supposed to feel romantic, but I readily told him no, thanks, because I've ridden in those thingy countless times in the Philippines, you know. It's one of my mode of transportation from home to school back when I was in high school, haha! So I'm gonna save you some bucks by skipping this one. He rolled his eyes and replied, "Where is the LOVE?" Hahaha!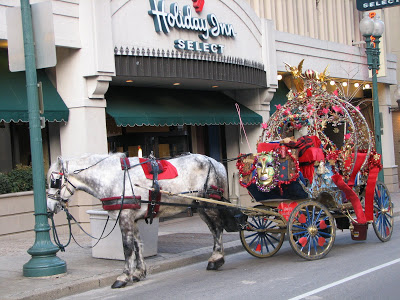 I'm not sure if I had mentioned it, but Jeff has a younger brother. We couldn't see them as often as we would want to because we all live so far from each other. But I've met them on several occasions including their youngest baby's shower. Before heading home, we thought of dropping by at their place . But first we went to my DIL's house, returned the Dexter Season 1 dvds and borrowed more, then off to Jaime and Lisa's place.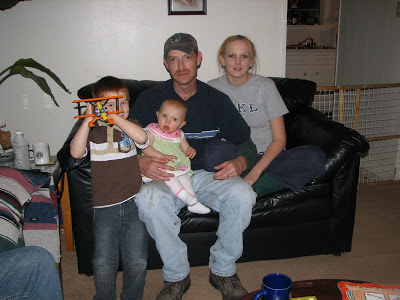 They have 2 cute and adorable kids, Brad and April Genevieve.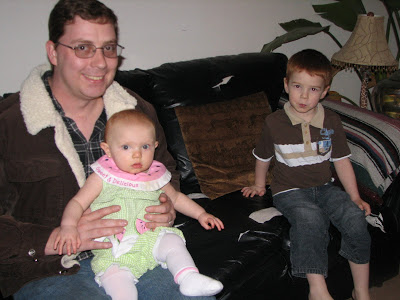 I think I'm ready to be a mom, haha! See...I know how to hold a 10-month old baby.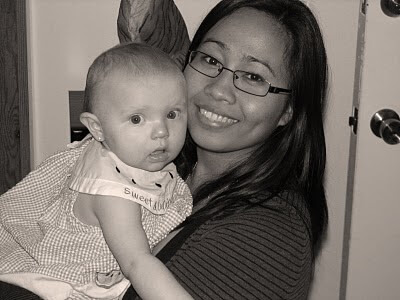 I hope you enjoyed all the photos. Next time, I'm gonna take you to a tour to Elvis Presley's Graceland Mansion. See you all there!