I love taking road trips. I find it refreshing to visit new places, take lots of photos, explore the area, try out new food and spend time with Jeff without having to worry about what to make for dinner or worry about laundry, dishes and other chores. Whenever we get the chance especially on long weekends and other holidays, we try to take a break and indulge ourselves on mini-vacations. The most recent we had was last Valentine's weekend in Memphis. The city is famous for its great tasting barbeque food and the town where the King of Rock 'n Roll, Elvis Presley grew up in. There are so many things to do in Memphis and I think our 4-day stay was not enough. We intend to leave the house early morning on Friday, but we slept in so we didn't get to leave until 10:30 a.m. We got there probably around 3:00 p.m.
We stayed in a hotel within the Graceland vicinity since that was our first stop, a visit to Elvis's home which is the
Graceland Mansion
. I'll take you to a tour on Elvis Presley's mansion in Memphis on a separate post.
I was amazed with how the hotel lobby was all filled up with Elvis's photos and memorabilia. They play his music all day long. I bet the staff have already memorized the lyrics by heart, lol. The swimming pool which is closed at this time of the year was even designed like a guitar depicting Elvis's love for music and performing. I think it's quite interesting until we get inside our room.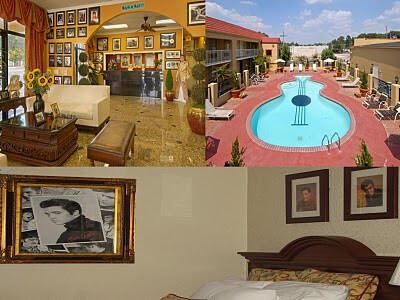 Lo and behold! More picture frames of the King of Rock 'n Roll. At first I thought it's scary to have pictures of a dead man inside our room whom I don't know personally, but I have gotten over the creepy feeling after a while.

This is what happens when you drive straight 4 hours. I have his consent for this photo to be included on my blog. He said as long as he's not drooling or with mouth gaped open, he's fine with it! Haha!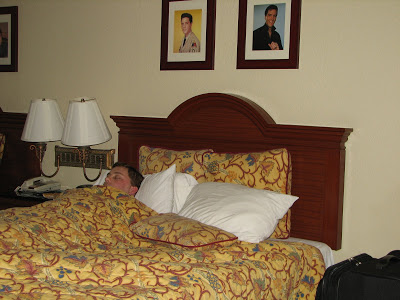 After that much needed rest, he took me out to dinner and a movie date. We had dinner at IHOP. He had some coffee while I got my favorite hot chocolate. I lurrvv hot chocolate on a cold winter night. But I think they overdo the cream and sugar on this one since it tasted too sweet for me, so Jeff had to finish it for me.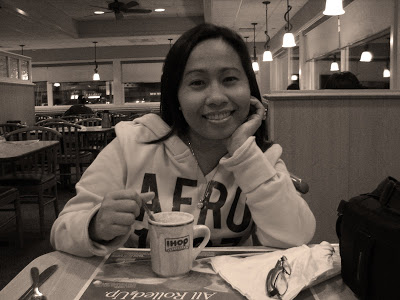 I decided to go a little healthier that time so I ordered Grilled Tilapia w/ hollandaise sauce, steamed cheesy broccoli and mashed potato with brown gravy. Yum! Yum! There's no fishy taste to it and I love that! It's mildly flavored and it just literally melts in your mouth, hmmm. I think Jeff ordered some breakfast food, hahaha, layers of pancakes and omelette if I'm not mistaken, so I didn't bother taking pictures of it.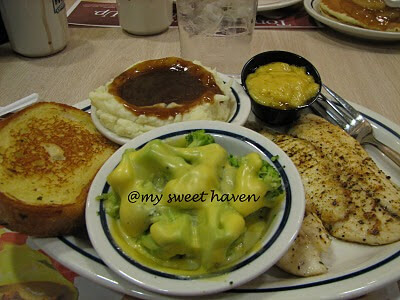 After the scrumptious dinner, we head straight to Majestic Cinema. Now, here's a little story. I've heard about "Dear John" and "Valentine's Day" movies from my Facebook friends and I was like, "Yeah, I gotta watch that too!" It's Valentine's and I need to watch something mushy. But the next day, I came across my good friend
Joanne's blog
and she said about how she slightly dislikes it when it seems like all movies they show on Valentine's Day are mushy stuff like it's some kind of a movie marathon, then I thought, "Wait a minute, I think I have the same take on this one". Don't get me wrong, Joanne and I both love romance and girly girly mushy stuff but I think the world has so much to offer. Besides Jeff and I could still watch romantic movies together at the comforts of our living room courtesy of Netflix, so I opened my eyes to other great possibilities and gave in to my preferred movie genre, a comedy-thriller-action John Travolta movie "
From Paris With Love
." I didn't have regrets. I was on the edge of my seat the whole time. It was a different John Travolta. Definitely not a fan but I can't help but notice his acting. He was so effective as a tough-looking, trigger-happy, loose cannon CIA special agent who's out in a mission to stop a terrorist attack in Paris. You must have realized by now that it's a violent movie but with a purpose I must say. It has a good ending, bad guys never win in the end. Overall, we enjoyed it. I guess that makes us an odd couple huh! Hehe.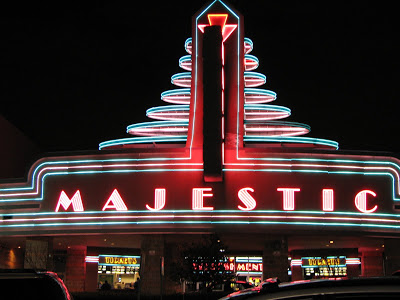 Here are some snaps of me on different moods and locations. Taken on a Valentine's Day morning geared up for some shopping frenzy at
Wolfchase Galleria
.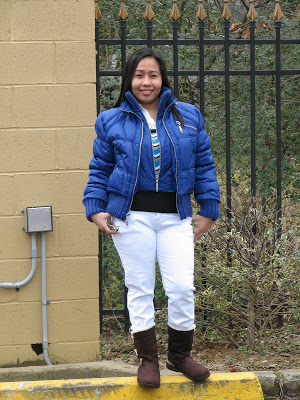 This one is on a Saturday stroll at the Graceland Mansion grounds. Nope, that's not a phone nor an IPOD hanging around my neck. It's actually an audio player or something, I forgot the exact name of that thing but it kind of guides you through the whole tour of Elvis Presley's Mansion.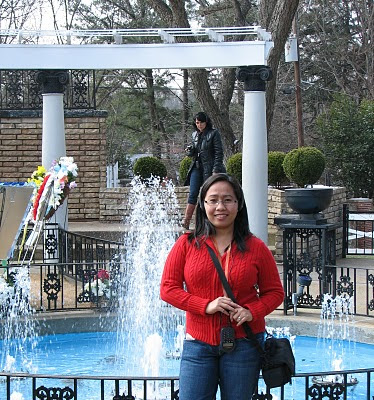 Pardon for the bad lighting on this one. Taken inside an Indian Restaurant. Does that smile tell you something? It just says I feel so bloated. Who wouldn't? I just finished 4 big pieces of Tandoori Chicken. What a glutton! Harharhar!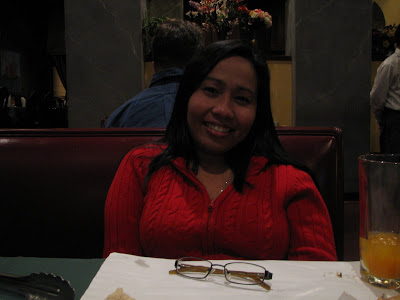 India Palace...I've never tried Indian foods before. But recently, I came across a good blog authored by
Ameena
of L.A. She's an interesting writer and I love reading her posts. She mentioned one time about Indian foods, though she said she's yet to find a good Indian restaurant in her place but still that sparked my interest and I thought I'd give it a try. I'm not very adventurous when it comes to food but I thought I should try at least, then if I don't like it, I won't eat it again. Haha!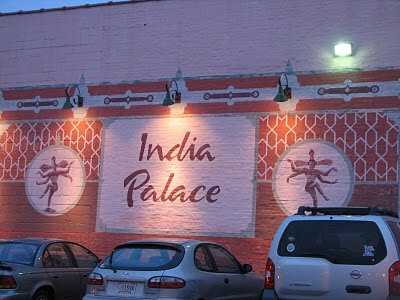 I ordered
Tandoori Chicken
as Ameena had suggested for a first-timer like me. It was good. Couldn't equal our own Chicken Adobo though but still it was good. Too bad the piece of lime landed on the floor before I could even squeeze it on my food.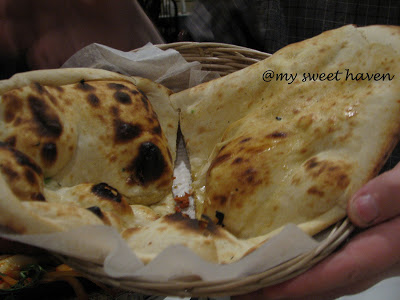 Sorry for a very long post. Thank you guys if you've reached this far, lol! I decided to make this as Part One. It's hard to fuse everything that we did for 4 days in just one post so expect another round of photos and mediocre narration. I have so much of them and I just wanted to share them all. It was a memorable weekend for me and reliving it through my blog is my idea of fun. See yah!