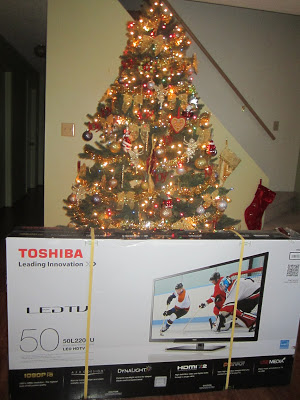 Who would give out flat screen TV sets these days as gifts? Well, my awesome father-in-law is one, and probably the only one in the circle of people that I have known who give gifts as pricey and extravagant as a TV set, lol! Surely, I'm such a lucky girl!
Hubby knew about it even before Thanksgiving that his Dad was going to give us a nice flat screen TV but he never mentioned it to me so I had the biggest shock of my life when some guy came to the house and hauled this humongous TV set in our living room. I was like, Geez did you come to the right house? Because I'm sure we didn't order a TV recently. Hubby would mention it to me if we would have a big purchase like this but he didn't so I knew something was off. The guy looked at me funny and told me twice that it's my husband's name that was on the delivery receipt. So I thought Ok, alright, go ahead, let me sign that piece of paper and hubby and I were going to have a nice long talk later, lol!
When I glanced at the receipt, I saw his Dad's name on top and then a thought twinkled in my head. Could this be a gift? Oh my, if it is, then it's surely one of the most expensive gifts we have ever received, lol! As soon as the delivery guy was out of sight, I called hubby at work and he spilled the beans, lol! It was indeed a special gift from his Dad for us this Christmas, and that he knew about it sometime in November. Gosh I was so happy I couldn't say anything at first, lol! It was a perfect addition to our new house. I couldn't thank my Father in law enough. He's such the sweetest and generous person I have known. We are so lucky!