Our first stop on Valentine's Day was
Mid-America Science Museum
. I've been to several museums but I must say, this one is the most interesting and exciting experience for me. Unlike most museums where you would just feast your eyes on the exhibits, Mid-America would actually make you touch, see, feel, hear, smell and do things. It is very hands on and they have something for young and old alike. The Tesla Coil presentation was worth mentioning. This "caged lightning", as what they call it, produces 1,500,000 volts of electricity. The Tesla Coil is enclosed in a massive 2-1/2 ton steel Faraday cage which protects the visitor from the "lightning" (corona discharges). I marveled at it but had to cover my ears to muffle the loud noise created by the voltage. We also had fun inside the Underground Arkansas Cave. A few kids and a couple of adults trekked with us through the gigantic indoor cave filled with awesome twists, turns, tunnels, and slides. We maneuvered swinging bridges and climbed rope ladders and I have to admit, we wished we were 20 years younger so we'd have the agility, energy and flexibility of kids, lol! One day, when we have kids of our own, we would definitely take them back to Mid-America Science Museum. It was indeed an exciting experience!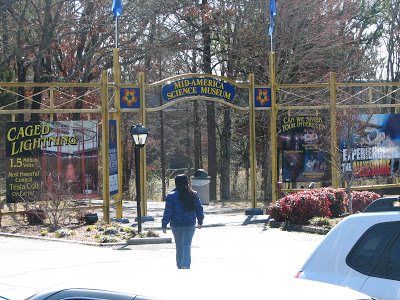 The entrance
An electrical thing that goes ZAPPP!!!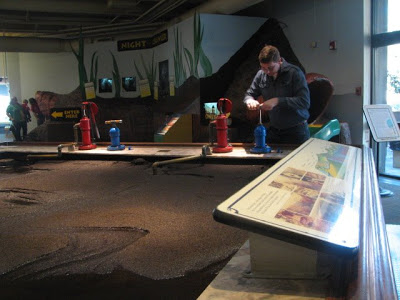 Jeff in action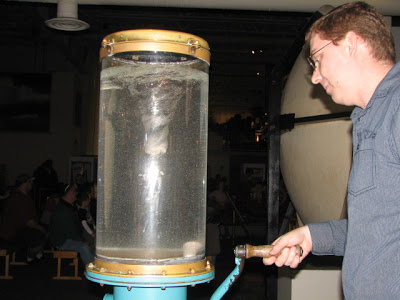 Making a whirlpool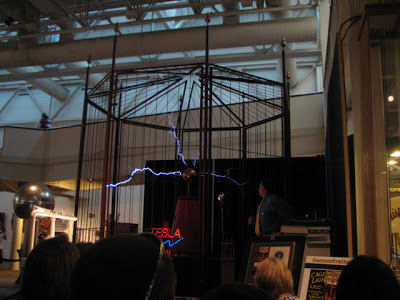 Caged lightning presentation
Static electricity ball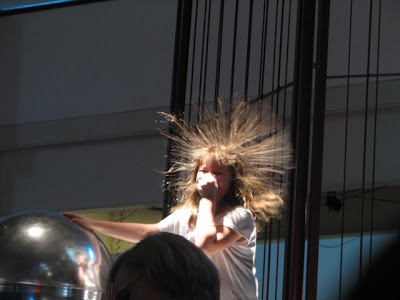 I got a kick out of this cute girl's hair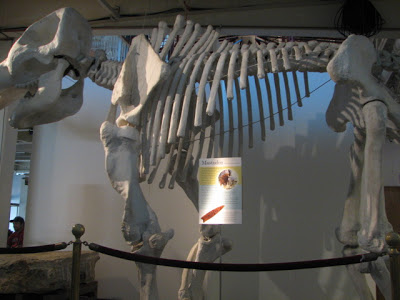 Fossilized Mastodon Skeleton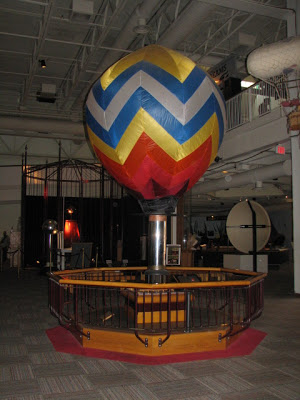 Hot air balloon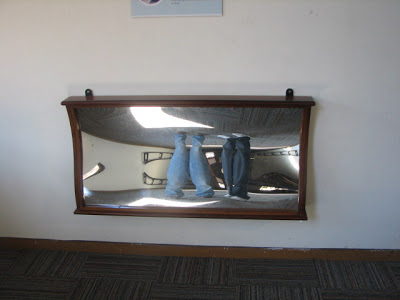 All legs, no bodies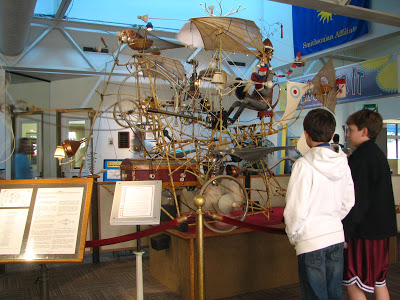 I wonder what this is....probably these kids are thinking the same?